The 12 months of Dodl
A look-back at some of the moments that made Dodl's first year of taking the fear out of investing.
||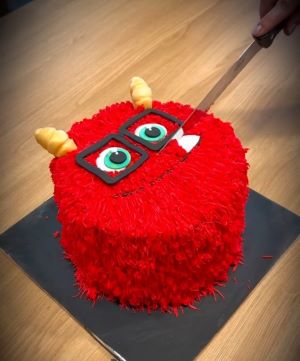 On the first month of Dodl...
We launched on 20 April 2022 and it'd been quite the journey to get to that day (with just the one false launch the day before!). The team brought a monster-branded, low-cost, easy-to-use investing app to the market. It was called Dodl – pronounced doddle – and it was built to be exactly that.
The first month absolutely flew by with excitable socials posts and press mentions a plenty. Dodl was the 'new low-cost app offering from AJ Bell' but there was more work to do. 👷‍♀️
On the second month of Dodl…
The launch was a success, and we took a moment in May to celebrate and drink it in while we refocused on the next phases of Dodl. Transfers and US shares were the next big milestones, and the aim was to get them up and onto the app before the year ended.
As well as turning to the next big development steps, we gave the sparkly new Dodl brand some love with a bit of advertising across Manchester and Liverpool. Our signature purple and (favourite! 🙊) Red Dodl monster graced billboards and bus stops across the North West – did you spot any of them?!
On the third month of Dodl…
Though a comparatively quieter month, June saw lots of hard work behind the scenes, getting transfers into place and improving the feel of the app – or the 'user experience'. We talked to you in the app and on socials and spent some valuable time building up our community of Dodlers! 💜
We were also busy building Team Dodl and working closely with teams from across the AJ Bell family. Plus the Dodl monsters were let loose across the country again – this time on public transport and the occasional black cab!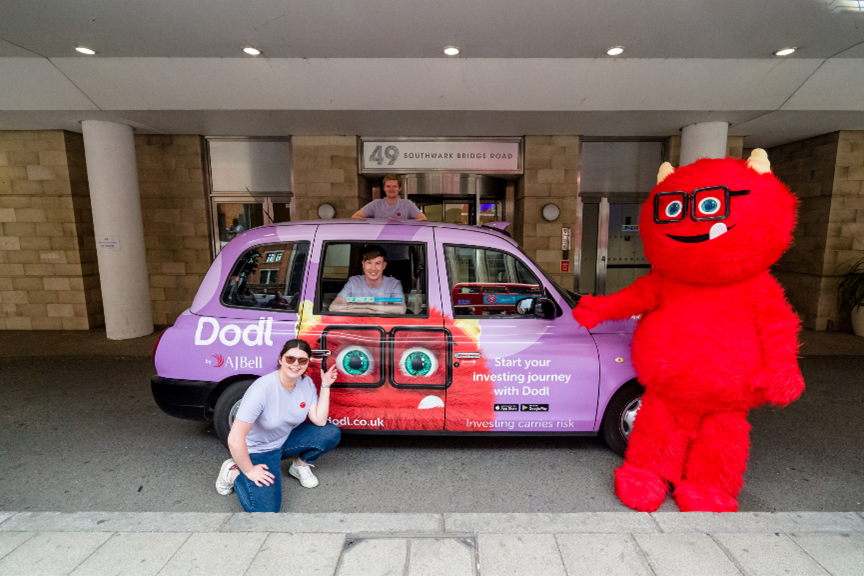 On the fourth month of Dodl…
While lots of lovely behind the scenes work was underway to make Dodl even better, in July we started to ask for your help to spread the good Dodl word, with the launch of our refer a friend offer. And to say a big thank you, we'd send you and your new Dodl pal a £30 voucher to spend, well, pretty much anywhere.
It's still going today and there's no plans to stop it, so if you know someone (or lots of ones) who Dodl can help get started investing, go ahead and send them the referral form. 
On the fifth month of Dodl…
Transfers, transfers, transfers! 🚀 Just four months after launch we were able to offer you an easy and hassle-free way to get your other investment accounts over to Dodl. We knew just how important it was to get this feature right, so we spent those extra months tweaking and streamlining to make sure of it.
Since August you've been able to transfer other ISAs, lifetime ISAs, general investment accounts and *most* pensions to Dodl, just by telling us a little about the account and what you want to bring over – all done in the app. Though we're pleased with the transfer process, we'll keep asking you for ways we can improve. It's something we're determined to make as fast and frictionless as possible.
On the sixth month of Dodl…
September came and so did the AJ Bell Tour of Britain. Being part of AJ Bell means Dodl customers benefit from the security and strength of a trusted name, but it also means we can bring you fun opportunities and competitions to take part in exciting national events like the Tour of Britain. 🚲
This was also the month when Dodl began receiving wider recognition for the hard work and careful thought which built the app. Finder presented Dodl with their Investing Innovation Newcomer award for 2022. 🏆 And it felt very good indeed!
On the seventh month of Dodl…
With transfers live in the app and getting on nicely the team shifted focus again, this time to bringing in another highly requested investment type to the app: US shares. US shares were always part of the plan, but they needed a touch more time than the range of UK-based investments Dodl launched with.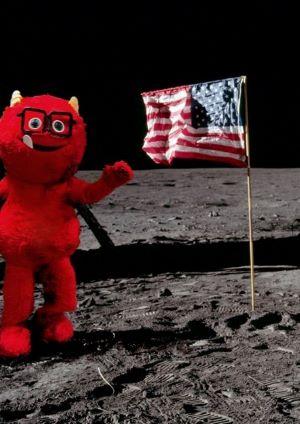 So with one small step for Dodl and one giant leap for easy investing, in October US shares landed in the app. 30 new sparkly companies from across the pond were available for Dodlers to buy and broaden their investment portfolios (pending the completion of a quick W-8BEN form! 📝).
On the eighth month of Dodl…
With transfers and US shares completing the Dodl picture it was time to turn to relatively smaller developments, but ones which would still make an impact in improving Dodl. A new simple way to add cash was first on that list: easy bank transfers. 💸 
As the product team got into the swing of 'business as usual', November gave us a moment to look forward to 2023 and plan all the action it had in store for Dodl.
On the ninth month of Dodl…
The Christmas spirit hit hard and a new giveaway was born. 🤶 Dodl's get started giveaway launched in December, the most generous month of the year, and was all about celebrating getting started investing. If you're new to Dodl and haven't yet opened an account, you could still be in with a chance of winning! Check out the T&Cs for all the info.
With the release of easy bank transfers 🙌, the team could wrap up for the year and enjoy some festivities. Oh and we almost forgot the small Christmas present we received from the Times – Dodl won the Times Money Mentor's award for best ready-made stocks and shares ISA.
On the tenth month of Dodl…
January can feel tough at the best of times, so we wanted to make it all about investing in your best life. And with that we launched the Dodl blog – the one-stop-shop for helpful articles and interesting insights to support you on your investing journey. 📖
Later in January, after a few months of research and asking you what you'd like to see on Dodl, we had a small refresh of the shares on offer. 12 popular shares were subbed in and became immediately available to invest in on the app. They included the likes of Nike 👟, Johnson & Johnson 💊 and Rio Tinto ⛏.
On the eleventh month of Dodl…
Recognition from comparison sites and a flurry of awards came in February. Dodl made Forbes Advisor's list of best lifetime ISAs and Boring Money named Dodl a best buy in not one but four different categories.
Meanwhile a very special update to the app was bubbling away, and it would allow more people to transfer their lifetime ISA to Dodl…
On the twelfth month of Dodl…
Lifetime ISAs are great, but they can sometimes be difficult to transfer to a new provider once you're over the age of 40. Well in March, Dodl changed that. A bit of leg work behind the scenes and some smart touches to the transfer process meant that those age 40+ could now transfer their LISA to Dodl.
Away from the app, we got involved with as many Women's History Month celebrations as possible. From AJ Bell's own Money Matters International Women's Day event to supporting the fantastic Female Invest at their hugely successful Female Power Night. 🍾
And now we're here, Dodl in April 2023, asking you what you'd like to see in this post, this time next year. Let us know by sending a quick email to hello@dodl.co.uk or hitting the button below to get to the in-app chat. We can't wait to hear from you! 💜
​