Back 2 school – investing on a budget
So, you've got your budgeting locked down, now where do you want your spare change to go?
|
|
🔔 If you missed our blog about how to budget like a pro as a student or fresh graduate, check it out before reading on! 
It's a common misconception that investing is reserved for those with deep pockets. Whether you're a cash-strapped university student or just starting your career, there's a path to investment that won't leave your wallet whimpering.  We're here to break down that barrier and empower students and graduates to take their first steps on their investment journey – even on a tight budget! 💪 
Planning your investments 📜 
After you've got your budgeting down to a T, it's time to start thinking about planning your investments! At this point, it's important to keep your financial goals in mind – for example – if you're looking to save for a home, perhaps the investment lifetime ISA is for you. If you need a hand choosing the best account for you, check out our accounts key features. 
Risky business 💼 
Before you embark on your investment journey, it's crucial to know your approach. Are you the prudent planner or the bold adventurer? This is where risk tolerance comes into play. Wherever you fit into the risk puzzle, it's about finding the right investment options to suit you. 
Cautious Investor – if you're risk-averse, you might prefer steady, lower-risk investments like funds or more stable stocks that offer dividends (where companies pay out a portion of their profits to their shareholders).  
Adventurous Investor – if you're a risk-taker, you may want explore the stock market, but be ready for the ups and downs that may come with it. 🎢 
Diversify like a pro  
A diversified portfolio is like having a good toolbox. Instead of relying on a single tool for every job, you equip yourself with an assortment of tools to handle different tasks. 🛠 
Similarly, different asset classes make their own unique patterns. When one is up, another might be down. By holding a mix of assets, you aim for smoother, more consistent returns over time and lower your risk. 
Whether you're a total newbie or you've invested before, picking a variety of investments can be tricky! Luckily for you, we've got a few simple options to help you create a lovely diversified portfolio: 
Themed investments 
Whether you're passionate about specific trends, global regions, or responsible investments, this option lets you build your own portfolio with various funds that align with your interests and values. At Dodl we have some groovy themed investment options, so why not check them out? 
AJ Bell Funds 
Dodl also allows you to invest in AJ Bell's range of ready-made portfolios, allowing you to invest in a variety of different assets in one simple investment. All you need to do is choose your desired risk level, and if you're inclined towards responsible investing, there are options for that too. It's a hassle-free way to diversify like a boss. 💪 
Don't forget the safety net 🦺 
Just as a responsible explorer carries emergency supplies, you should maintain an emergency fund. Keep some cash in a savings account for those unexpected moments that life throws at you, like a broken laptop or a surprise bill. This cushion will hopefully allow you to pursue investment opportunities without worrying quite so much about unforeseen financial hiccups. 
Why invest as a student or graduate? 
Now we don't want to assume, but for many students or fresh graduates, the disposable income situation tends to be a little dry. 🏝 
However, small, consistent investments can lead to significant financial growth over time. The graph below shows your potential returns of starting at age 20, 30 and 40, with just £25 a month. Just look at the difference it makes when you get started 10 years earlier!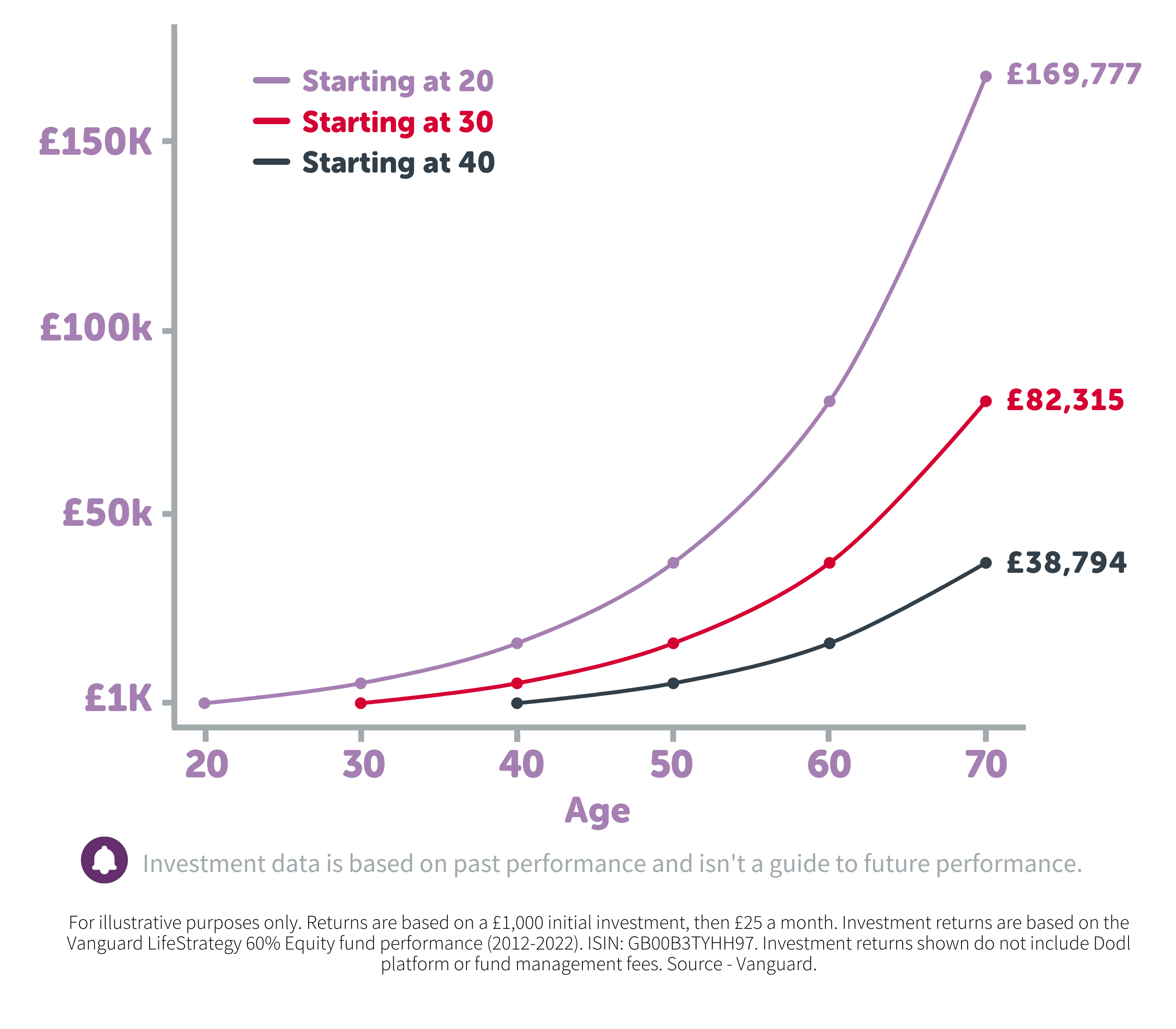 Stay curious, keep learning 🎓 
As you journey through the investment landscape, remember that every expert was once a beginner. So do your research, check out our many blog posts on the 'Getting started' section, and maybe even follow a finance podcast or two 📚🎙️. The more you know, the more confident you'll become in your investment choices. 
Time is on your side here – Rome wasn't built in a day, and neither will your investment empire. The earlier you start though, the more time you give your money to work for you. Even small investments today can turn into substantial sums over the years.  
Remember, if you're new to investing or have questions along the way, Dodl's support team is always on hand to assist you! 🤝 
Ready to begin your investment journey?  
🔔 Investing carries risk and nothing in this article should be taken as advice - Dodl doesn't give advice, but we do hope the info is helpful!