Dodl's lifetime ISA knowledge quest!
We recently took to the streets of London to embark on an exciting research project!
|
|
Armed with our trusty question board and Dodl monster stickers, we were on a mission to find out just how much people know about the lifetime ISA (LISA).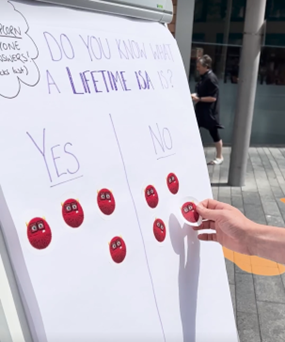 Objectives 🎯
As a team passionate about helping new investors make more of their money, we set out to shed some light on the LISA, especially when it comes to saving for that first home.  Our aims were twofold: educate those who weren't familiar with LISAs and spread the word about the fantastic benefits it offers for aspiring homeowners. 🏡
The results 🧪
But hold your horses because the results were quite surprising. While we were thrilled to chat to some of you who were well-acquainted with the lifetime ISA, we discovered that over 50% of the people we spoke to had no idea what a LISA was all about. What's more, a lot of those who HAD heard of the lifetime ISA weren't all totally clued in on its benefits.
Our chat with the lovely Londoners revealed that the lifetime ISA remains very much a hidden gem for many who dream of owning a home, and we'd like to change that!
Be in the know! 🧠
If you're one of those aspiring homeowners or know someone who is, listen up! The LISA is a powerful savings tool that offers a handy 25% government bonus on your yearly savings, up to £1,000 per year. That's right, free money, just for saving for your first home! 🎉On top of that 25% bonus just for saving into a LISA, with Dodl you can easily invest those savings into your choice of funds, themes and shares.
Better still, any growth or income your investments make is totally tax-free. LISAs really are the gift that keep on giving. Although these are the rules right now, LISA and tax rules can change in future. And as always, the value of your investments could go down as well as up.
It's also worth bearing in mind that there are only three legitimate reasons to dip into your LISA savings. Firstly, for buying a first home up to a value of £450,000, secondly for retirement from the age of 60, and finally in case of a terminal illness. If you do so outside of these times, you'll face a government withdrawal charge of 25% applied to the total amount.
If you're among those who are still unsure if the lifetime ISA is the right account for you, perhaps our lifetime ISA limits blog may help you. Alternatively, you can head over to our lifetime ISA page for more information.
To wrap up
We had a great time meeting the public, spreading the LISA love, and learning about (and hopefully closing) the awareness gap. We want to give a big thank you to everyone who participated and helped us with this project! 🤗
But our journey doesn't end here! 💪🏼 We're more committed than ever to help new investors give themselves the best chance of achieving their financial goals and make their homeownership dreams a reality!
If that sounds like a bit of you, maybe now's the time to open your investment LISA!
Open a Dodl lifetime ISA today
If any of the information is unclear, don't hesitate to chat to Team Dodl through the app with any questions. Just remember though, Dodl doesn't give advice, so if you're unsure about investing or whether the lifetime ISA is for you, you should talk to a financial adviser. Investing carries risk and LISA rules apply. 🔔